KlipTrio Pet Nail Clippers Get FREE Domestic Shipping!

Caring for your pet's nails is an essential part of their overall well-being. Overgrown nails can cause discomfort and pain for your furry friend, leading to difficulty in walking, joint issues, and even potential infections. Regular nail trimming not only ensures their comfort, but also helps prevent unintended injuries — and that is where KlipTrio® is making a difference.
This revolutionary pet nail trimmer, created by animal healthcare professional Alexandre Contreras, is the ultimate 3-in-1 tool for safe and sanitary pet nail trimming! Created with the needs of both dog owners and professionals in mind, this innovative tool puts professional veterinary nail clippers in the hands of the everyday pet owner. Discover how you can upgrade your pet care routine with the KlipTrio® dog nail clippers!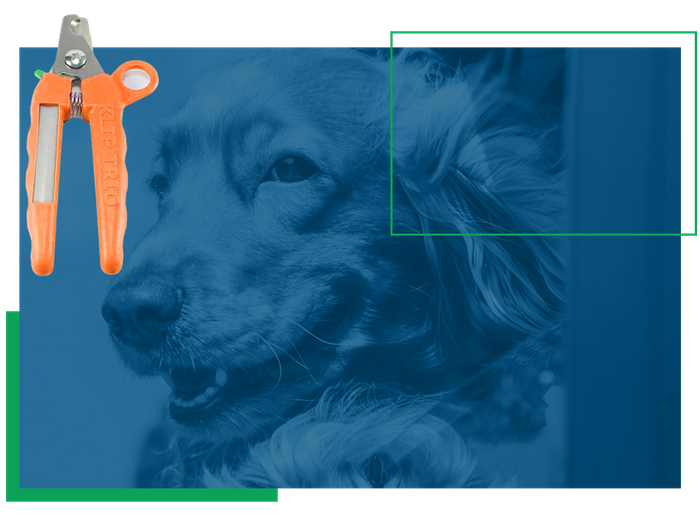 KlipTrio® Features
The Preferred Nail Clipper by Groomers & Pet Caregivers
The KlipTrio® dog nail clipper is here to change both at-home vet care and professional vet care. Trimming a pet's nails too short can be a painful experience, leaving them bleeding and reluctant to allow nail trims in the future.
But that's why the KlipTrio® was developed, with a unique built-in receptacle for a replaceable, styptic powder-filled cartridge; you can confidently provide fast and sanitary treatment immediately after trimming. These professional veterinary nail clippers also boast a stainless steel nail file designed with a concave shape and high-grade polymer plastic construction. Used by humane societies, rescue groups, pet owners, and veterinary care professionals, KlipTrio® is the last specialized pet nail trimmer you'll ever need to buy!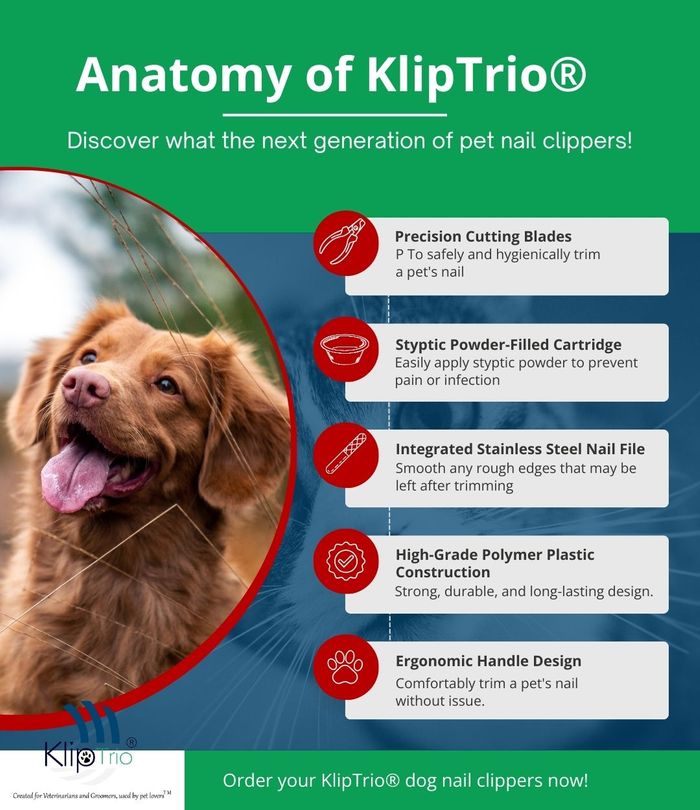 Three Tools in One
What makes these incredible professional veterinary nail clippers an absolute must-have is how they combine several tools in one. The KlipTrio® allows you to trim nails with stainless steel blades, treat the nail with soothing styptic powder, and prevent any sharp edges with the integrated nail file.

Disposable Styptic Powder Cartridges
After trimming your pet's nails, it's important to stop the bleeding and give him or her urgent pain relief! To mitigate this issue, the KlipTrio® was developed with a built-in styptic powder-filled cartridge that can be easily replaced. Users can easily care for the injured nail and ease their pet's pain — replace the cartridge with a new one once you're finished, and you're ready for next time!

Precision Cutting Blades
Have complete confidence during pet grooming with the best dog nail clippers on today's market! Say goodbye to the risks of accidentally cutting the quick, and say hello to stress-free and enjoyable nail trimming sessions with our KlipTrio® precise cutting blades. Experience the next generation of pet nail clippers with surgical-grade stainless steel blades.

Ergonomic Handle Design
Pet groomers, veterinarians, and pet owners should be comfortable trimming a pet's nails. Using low-quality dog nail clippers not only makes the entire experience harder for them, but also for the pet being groomed! The KlipTrio® has an ergonomic handle design so you can move through this process carefully and comfortably.

First-Of-Its-Kind Dog Nail Clipper
Clinically tested and veterinarian-recommended, the KlipTrio® professional veterinary nail clipper is the first and only pet nail clipper of its kind. Quickly becoming a preferred choice in the pet care industry, these clippers mitigate a repeatable human error that occurs nearly 60% of the time in the veterinary profession.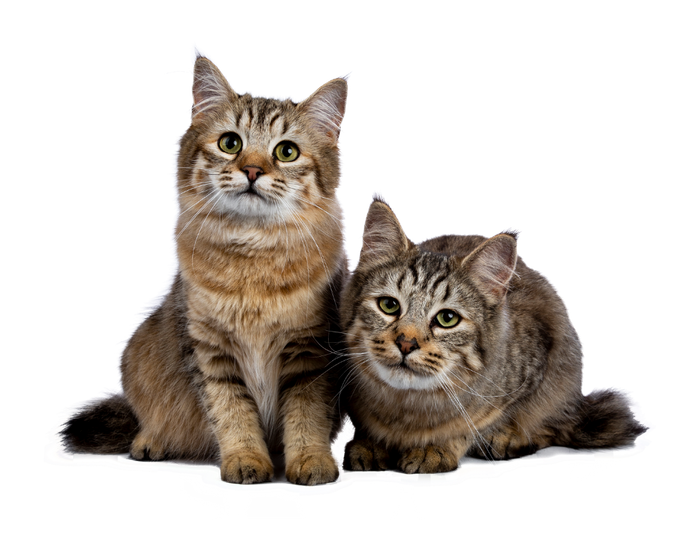 The Standard KlipTrio® for At-Home Care
Everyday pet owners will love the standard version of the KlipTrio® dog nail clipper! This original version from creator Alexandre Contreras puts the power of professional veterinary nail clippers right into the average pet owner's hands. Whether you're grooming your dog or cat, you don't have to worry — experience hassle-free nail trims with this 3-in-1 pet nail clipper. The KlipTrio® is available in several colors for your convenience and so are more disposable styptic powder cartridge packs if needed!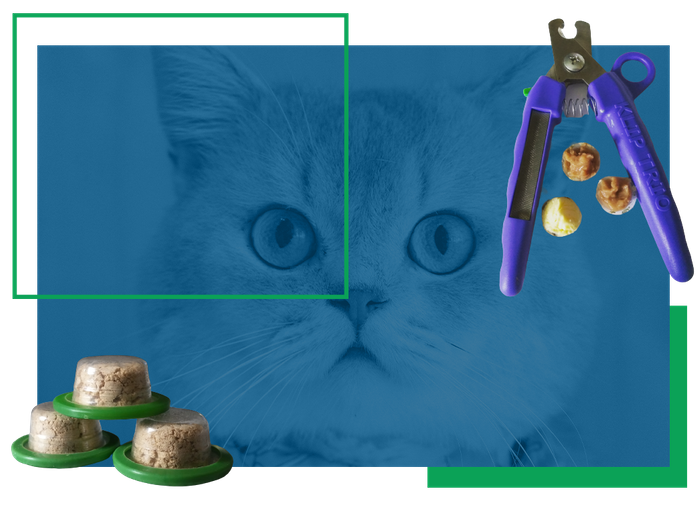 KlipTrio® Starter Kit for Veterinarians & Groomers
Veterinary care professionals and groomers can upgrade their nail care arsenal with the KlipTrio® Starter Kits. This must-have kit comes with several KlipTrio® s in different colors, so you can easily designate each one for specific areas like treatment areas, grooming stations, exam rooms, and surgery areas. Don't miss out on this essential addition to your practice or grooming salon!
Care for Your Pet With The KlipTrio®Pet Nail Trimmer
Don't fight your pet with it come to nail trimming! KlipTrio® creates the best dog nail clippers to safely and effectively manage your pet's hygiene. Get started today!